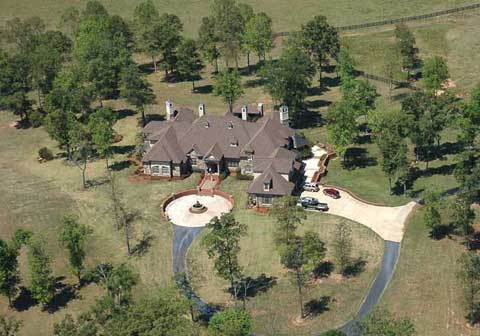 Sunday, October 31st at 2:30 P.M.
Auction TIme: 2:30 P.M.
Real Estate Sells first, then Furniture and Equipment immediately thereafter.
SHARP AUCTION
PROPERTY DESCRIPTION
1,312.51 Acres, and Home Selling in 22 Parcels and As A Whole. PROPERTY AMENITIES: 6 +/- Miles of Four Board Black Board Fencing, Pecan Orchard, 80 +/- Trees, (5) Lakes, Hay Barn (60' X 125'), Pole Barn (80' X 32'), (2) 3 Br/3Bt Modular Homes, 68'X28' and 58' X 28'. Located on Five Roads, Grandma Branch Road (5,945.77 Ft Double Frontage), Alexander Road (3,297.28 Ft), Bohannon Road (6,981.56 Ft), Coweta-Heard Road (2,310.87 Ft Double Frontage), Sid Young Road (1,086.39 Ft). Borders Grantville, Georgia City Limits, (Four Parcels in City of Grantville, 16, 20, 21, 22). City of Grantville Water, on Bohannon Road, Coweta County Water on Remaining Roads. Thought To Be Highest Elevation Point in Coweta Co. Zoned RR-Rural Residential, Electrical is Georgia Power. Georgia Power Easement 150 Ft on Parcel 9, 10, 11; 100 Ft on Parcel 20.

THIS HOME SELLS AS LOT 1: HOME WITH 17.18 ACRES

PHOTOS OF LOT 1:
1. Downstairs of Home
2. Upstairs and Basement
3. Exterior of Home and Yard

THE LAND
Click Here for a Complete Description of the Land to be Auctioned!
We have a slide show of the various land lots to be auctioned.
View Slide Show of the Land

THE FURNITURE!
This house is loaded with great furniture that will be auctioned. Take a look at the lots below.
1. Lots 1 - 75
2. Lots 76 - 150
3. Lots 151 - 201


HOME DESCRIPTION
Click Here for a Complete Description of the Home!
Address: 540 Alexander Road, Grantville, Georgia. Built in 2002 by Master Craftsmen.
12,643 Sq Ft Heated and Air. Floor 1 Ð 8,091, 2- 3,379, Unfinished 1,173, Garage 853, Porches 1,340, Basement 8,091, Total Floor Space 22,984. Exterior Tennessee Fieldstone & Brick/Accented by Stucco. 50-Year Shingles on Roof, Copper Gutters and Over Windows, Custom-made Wrought Iron Railing On Balconies, Stairs, Upstairs Hall. Multicolor African Slate on all Porches, Geothermal Heating, (Piping in First Floor), 3 Individual Cooling Systems with 8 Zones (every room has its own air return). 3 Hot Water Heaters- (1) 91, (2) 61 Gallons. 6 Bathrooms have Recirculating Air instead of Exhaust Fans, Colby & Colby Windows and Doors, Doors are Solid Wood. All Cabinets Custom Made; Maple in Kitchen, rest are Alder Wood. Limestone and Hardwood Floors, Carpet in Bedrooms. Upgraded Foam Insulation, 11-Foot Ceilings, Beams in Ceilings Custom- made from 150-Year-Old Savannah Heart Pine, Sound System Throughout, Natural Gas & County Water.
EQUIPMENT DESCRIPTION
Click Here for Pictures!
Equipment Sells at Approximately 3:30 pm. and will be Sold Under the Auction Tent by Video. Please Preview The Equipment Selling After Oct 17th, 10am To 5pm Daily. Mark Your Catalog For Items You Wish To Purchase.

E01 1993 John Deere 7800, 145 Horsepower, 4X4, Cab and Air,

3 Remotes, 3,000 Hrs.S/ RW7800PD05214

E02 John Deere 2018 Bat Wing Mower, 20 Foot Cut, S/ WD2018E002073

E03 John Deere 630, 20 Foot Cut Harrow

E04 Amco 10 Foot Cut Harrow, MDL R400-2228, Very Heavy, Special Built. S/ 84020087

E05 2001 John Deere 1600, 11 Foot Cut, Bat Wing Mower, 57 HP, Diesel Engine, 830 Hours, (2) Extra Tires, Extra Blades. S/ TC1600X010422

E06 John Deere 997 Z Track 72Ó Zero Turn Mower, Anmar Diesel Engine, 382 Hours., S/ DM997SC020407

E07 John Deere 757 Z Track, 60Ó Zero Turn Mower, 561Hours. Kawasaki Gas Engine, S/ FH721DA11632

E08 John Deere Gator, 2 X 4, Electric Dump, Diesel Engine. No Hour Meter, S/W006X4D003813

E09 John Deere 10 Foot, Heavy Scrap Blade, 3 Point, 6 Way, Hydraulic Operated/ W00155X011051

E10 999 CZ 12 Ton Tag-A-Long Equipment Trailer, 24 Ft., Dovetail, Ramps, Dual Tandems, Good Tires,

S/ 40ZTB3R125K366

There May Be Some Small Miscellaneous Items added.

Sunday, October 31 @ 2:30 p.m.
Sale Site: The Sharp Home
540 Alexander Road, Grantville, Ga

Selling: 1,312.51 Acres; Offered Divided and as a Whole, Home, & Home Furnishings