Absolute Auction
BUTTS MILL FARM - SCENIC AMUSEMENT PARK AND ACTIVITIES
Weddings, Corporate Events, Reunions, School and Church Outings, Lots Of Family Fun, Miniature Golf 18 Holes, Games, Gyms, Inflatables, Horse Back Riding, Go Cart Racing, Wading and Swimming In Turkey Creek, Paint Ball, Petting Zoo, Basket Ball, Volley Ball, Horse Shoes, Amphitheater For Concerts, Fishing Lake, Picnic Gazebos. Much To See Much To Do.
Saturday, April 25th - Starts at 10:00 A.M.
Location: 2280 Butts Mill Road, Pine Mountain Ga (Troup & Harris Counties)
Selling at Auction: Real Estate 10:00 A.M., Equipment 10:45 A.M.




REAL ESTATE OPEN HOUSE/INSPECTION: AT THE PROPERTY. By mutual appointments anytime. Auction personnel will be on site beginning Monday April 6th from 1:00 P.M. until 5:00 P.M., daily except Sundays.

AUCTIONEER'S NOTE
Butts Mill Farm, a Georgia landmark located in Troup County and Harris County, and has been enjoyed by many for 20 years. Families, school groups, and corporations have made memories at reunions, weddings, corporate getaways, and other events. Butts Mill Farm is a farm-themed recreation and amusement park located 2 miles south of Pine Mountain, Georgia, 3 miles from Callaway Gardens, and 3 miles from the Wild Animal Park. Pine Mountain is a major tourist location drawing thousands of people from all over the world.
Butts Mill Farm is selling at ABSOLUTE AUCTION on April 25, 2015 at 10:00 am. The new owners may take possession and open almost immediately after the real estate closing. Butts Mill Farm has a large customer base and those contacts will be passed on to the new owners.
Look at this brochure, visit our website, study the catalog, watch the videos, and come visit the property. Auction personnel will be at the property daily from 1 to 5 pm (except Sundays) from April 6th until auction day. Surplus equipment will also be selling; inspection begins April 17th and equipment catalogs will be available.
The farm is being prepared now to help prepare for the new owner's grand opening. Real Estate closing is to be on or within 30 days, but you may buy on Saturday the 25th, close on Monday the 27th, take possession and set your opening date any time thereafter.
Come and let us show you this property and answer your questions. Come to the auction and become the proud new owners.
The Auction Staff
---
Videos!
Video Sample of a Wedding at Butts Mill Farm
Video Sample of Family Day at Butts Mill Farm
---
Butts Mill Farm a Amusement and Recreational Park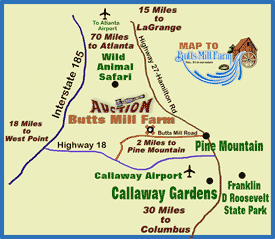 LAND: Total Acres: 53.5+/- acres
Troup County 5 parcels and Harris County 4 parcels
ZONING: Troup County
01-AG - Agriculture
Harris County (Park area)
Cord Commercial Outdoor Recreation Development District
Same as Callaway Gardens, the only other in Harris County
A5-Agriculture and R4-Residential

WELLS: Five wells located on property, 2 by the road are deep drilled and they are connected and furnish all the water for the park. 1 on the hill is non-functional and un-used at this time; one in the west pasture belongs to the adjoining home and is dedicated to that property by an easement. One is on parcel 2 with the modular home. There is no public water availiable.
PAVED DRIVE: 2,933+/- feet of asphalt drives and walkways throughout the park, all recently resealed.
FLOOD ZONE: Property is not located in a flood zone according to the Federal Emergency
Management Agency flood plain map number 1303380075 dated 12/05/1990.


Buildings and Improvements
CARRIAGE HOUSE:
Store, Restaurant, Banquet Hall, Office, Store, Restaurant, Banquet Hall and Rest Rooms
HOEDOWN PARTY BARN:
Banquet Area with Kitchen and Open Patio for Outside Dining
SWEETS AND TREATS:
Ice Cream, Snow Cones, Cotton Candy, Sandwiches, Snacks Area
GRISTMILL/RESIDENCE/WEDDING
Gristmill- An added feature to this area is the restored stone-grinding mill, with the stone changing lift still in place, and the old water wheel showing through a glass enclosure Residence-Used as a residence and for events, perfect for a manager to live in
WEDDING GAZEBO:
A gazebo, 9' X 13' elevated, shingle roof, rock foundation
THREE BAY SHOP/GARAGE:
26' X 55', three bays, cement floor, and metal roof with 3 roll-up doors
COVERED BRIDGE:
14' X 110', spans Turkey Creek and is used for weddings
RECREATION AREA:
Recreation area located between the golf course and the gristmill. Beautiful Turkey Creek flowing for swimming and wading, man-made white sand beach
PICNIC PAVILION:
18' X 28' metal roof, sitting area for guests to watch activities in the recreation area
PAVILION:
16'6" X 241'. Three ceiling fans/lights, water, cement floor, metal roof
SMALL COVERED BRIDGE TO GOLF COURSE:
Small covered bridge walkway (a replica of the large covered bridge over Turkey Creek)
gives access to the miniature golf course.
MINIATURE GOLF COURSE:
Most popular spot in the park. Ticket shack 4'4" X 8'4", well-designed 18 hole course,
and a putting green. Small waterways run through the course.
AMPHITHEATER/STAGE:
35' across front, 32' deep, 21' across the back, (896 sq. ft.). Wood floor, metal roof. Ample electrical system for stage lighting and musical instruments for a musical concert or other miscellaneous events.
DISCOVERY CENTER:
56' X 67' Pavilion type structure, and an adjoining sitting area of 14' X 67' has a metal roof and is open on four sides. Play area has numerous gym sets, slides, ladders and tunnel-type children's play structures, tumbling and climbing mats.
PUBLIC RESTROOMS:
GO CART TRACK AND SHOP:
Fenced secured area, 22' X 610' asphalt track, pole-type shed (34' X 51') for loading and un-loading carts. Shop building 22' X 31' with 12' X 20' shed at rear of shop and a 8' X 20' shed to side for storage and parking area for carts not in use.
STABLES:
36' X 120' Pole barn-type structure with a metal roof. 19 (10' X 12') stalls have board partitions and metal tubing fronts with gates. Dirt floor, has 2 feed and hay rooms, tack room, covered overhang (16' X 120') on east side for petting zoo, covered shed for shade (16' X 120') on west side and a front covered entrance area (12' X 33') on south side. Outside covered pole barn with built up platforms and alleys (32' X 36') which allow for easy horse mounting and serve as an observation area.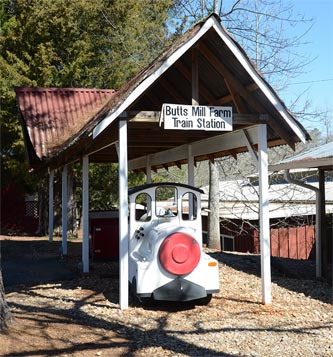 PETTING ZOO
TRAIN STATION with Train
BUNGEE BULL
FIRE TRUCK PLAYGROUND
NOAH'S ARK
PLAYGROUND SHED
WELL HOUSE
PICNIC SHED BY ROAD
VOLLEYBALL COURT/HORSESHOES
BASKETBALL COURT/KIDDIE CART TRACK
3 INFLATABLE PLATFORMS
GAZEBO
FISHING POND
PAINTBALL TARGET AREA
PAINTBALL FIELD
A large dedicated area with two separately designed paintball fields, one on each side of Turkey Creek. Small building for storage of air paint guns and supplies.
MODULAR HOME 2+/- acres, frontage on North Butts Mill Road, 1,869 sq. ft. enclosed screen area across the back, remodeled with a new metal roof. Parking shed for vehicles and a 20' X 40' metal work/storage shop, water well, and septic system. FIELD FOR PARKING
Miscellaneous Equipment Selling At 10:45am Surplus equipment inspection begins April 17th and equipment catalogs will be available. Assay gemstone mining station, Kubota L4400, Ford, and Farmall H tractors. 4 wheel 8'X16' high sides trailer, (2) John Deere Gators, 83 Jeep CJ7 rebuilt, 08 Yamaha gas golf cart, 04 Yamaha Bruin 400 4X4 4 wheeler, single axle ATV trailer, New Holland hay rake, 5' bush and bog harrow, 3 pt hay spear, 2 seated pony cart, (6) miniature Naskarts gas engines, (3) misc. carts, Pequza barn manure spreader, carnival dunking booth, smoker grill, engine hoist, 30 gallon air compressor, (8) saddles, Coleman generator, 20 X 80 white frame tent, (14) paint ball guns. Other items will be added and complete list and descriptions on web site.
Selling With Park (8) Horses, tack, pony, and donkey. (11) Go carts, Butts Mill Train, equipment in 2 kitchens, all tables, chairs, and swings, in banquet rooms and throughout park, (7) Inflatables, all play ground gyms and play sets.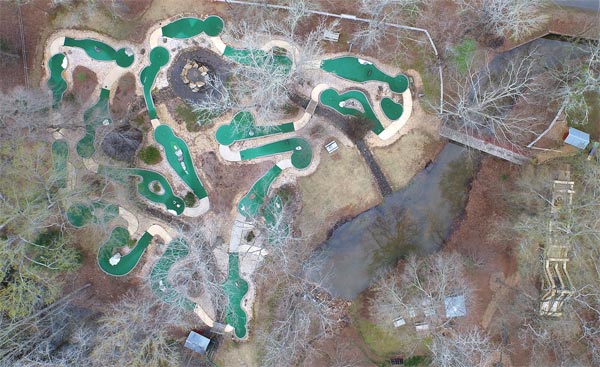 INFORMATION / APPOINTMENTS:
800.482.0775 (24/7)

THE AUCTION WAY COMPANY
P.O. Box 1663
1667 Ste. A, Whitesville Street, LaGrange, GA 30240
800.482.0775 (24/7)

REMAX RESULTS OF LAGRANGE
Rob Upchurch- Cell 706-523-0014
833 New Franklin Road, LaGrange, Ga. 30240

SALE SITE PERSONNEL AND CELL PHONES:
Gerald Bowie 706.302.0302,
Rob Upchurch 706-523-1702
Penny Bowie 770-328-1480
Morgan Marlowe 706-315-8260
All information on this website or any other advertisements was furnished to us by sources believed to be reliable, but is not guaranteed. Announcements from the auction box take precedence over any prior written or oral information. Buyers are responsible for their final due diligence.